Ski and Snowboard
Pack & UPS Ship Services
Save with THINK! Office Solutions Ski and Snowboard Pack & Ship Services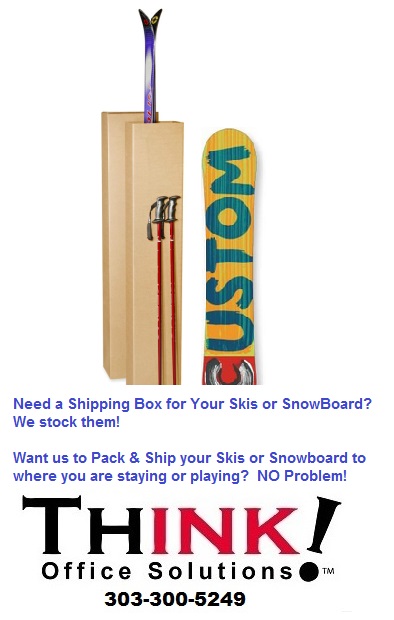 We THINK about packaging, shipping and logistics so you can focus on your business! THINK leverages 25 years of experience shipping and logistics and lean operating management to develop packing and shipping methods designed to save our customers money. You can expect to save a minimum of 15% on pack and ship services compared to national franchises.
Professional Ski and Snowboard Pack & Ship
Rely on THINK! Office Solutions to affordably pack & ship your Ski's and/or Snowboards anywhere in the world! Packing Services which include: shipping box, shipping tape, void fill protection and packing labor cost about $32 for snowboards and $35 for Skis.
Want to Package it yourself?
THINK sells snowboard shipping boxes for about $22 and a Ski shipping box for about $25.
Freight Estimates
UPS Freight costs vary based on destination but as of January 2015 the freight to ship a Mountain Bike or Road Bicycle to Southern California (LA/San Diego) was about $60 and about $80 to the East Coast (DC).

Specialty Pack & Ship Services
Shipping Bicycles
Shipping Skis/Snowboard
Shipping Golf Clubs
Large Freight Services