Save BIG on 100% Guaranteed Printer Ink and Toner Cartridges!
We guarantee the lowest prices in town on the highest quality ink and toner! Come in today and SAVE!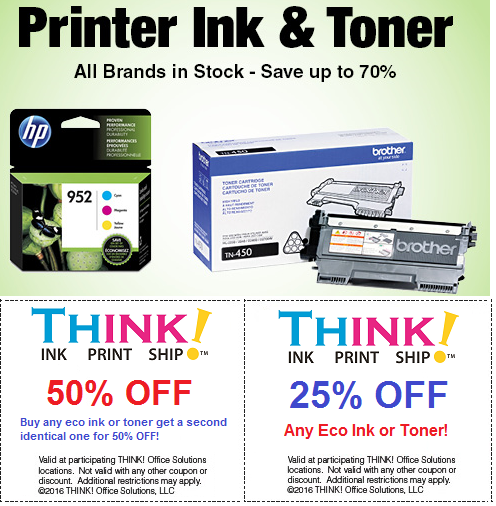 THINK stocks and sell a HUGE range of OEM and Remanufactured printer ink and toner from all brands including HP, Sharp, Canon, Lexmark, Brother, Samsung, Panasonic, and others. For our non-OEM ink and toner cartridges, we only use ISO and/or SMTC certified vendors with proven track records. We do not just refill your toner or inkjet cartridges, we thoroughly clean and inspect each cartridge and replace the worn parts as needed and then fill the cartridge with fresh brand new ink or toner that is specially formulated to work with that specific cartridge, and meet or exceed the OEM's specifications in terms of page yield, density and quality.
All of our ink and toner cartridges come with a FREE Equipment Replacement Program (ERP): If our products ever damage your machine we will repair it or replace it at our expense.
We have large quantities of the more popular ink and toner cartridge models like Brother TN 660, TN 450, and TN 750, LC 103, LC 203, LC 75, CE285A, CE280X and MORE.
We have ink and toner cartridges for every HP Deskjet, Photosmart, Laserjet, Officejet, Designjet and Color Laserjet in stock. Of course we always have plenty of HP Q2612A toners or 12A as we like to call them. For our larger accounts we are always sure to have the HP CC364X or simply the 64X and 64A and the HP Q5942A and Q5942X or 42X and 42A as we call them. Or if you have an older fax machine and need a fax ribbon we can help with that as well. Our MICR (Magnetic Ink Character Recognition) toner selection isn't too bad either if you want to print your own checks from scratch and save even more money.
Some of the More Popular Brands of Ink and Toner That We STOCK at our Denver and Aurora Locations:
HP, Brother, Canon, Lexmark, Dell, Xerox, Pitney Bowes, Hewlett Packard, Panasonic, Imagistics, Hasler, Copystar, Oce, NEC, Panasonic, Ricoh, Savin, Toshiba, Source Technologies, Epson, Kyocera Mita, Lanier, Intellifax, and many, many more. Call us today at 303-300-5249 for more information. We are happy to help.
FREE Supply Replenishment and Machine Performance Monitoring
FREE Supply and Machine Performance Monitoring: THINK! Office Solutions has partnered with PRMHero to offer Managed Print Services software which installs on any networked PC at your site and interacts with your office printers and copiers for the purpose of automated meter readings, technical performance monitoring, machine status and supply-level monitoring for replenishment purposes.
If you are tired of watching your toner levels or worse...running out of Toner or Ink our MPS Software is for you! Let us proactively manage your office equipment. Allow THINK! to remotely monitor your Supply Levels and Machine Performance. Register Here for our FREE Machine Monitoring Services. It is safe, secure and hassle free! There is no purchase necessary and you are not obligated to accept our services. When your machine needs supplies or service we will simply contact you by phone or email to offer our services. Have more questions? Call or Email Us or visit PRMHero.com
Specialty Ink and Toner Cartridges that We Stock:
MICR Toner Cartridges
Postage Meter Ink Cartridges