THINK! "Eco-Brand"
Konica Minolta Bizhub C451 Color Copier
THINK! Office Solutions is in business to reduce our ecological footprint and save companies and individuals money on business products and services. We Sell, Lease, Rent, Service and stock supplies like toners, imaging units, fusers and more for all Konica Minolta Office Systems including this Konica Minolta Bizhub C451 Color Copier.
Working directly with leasing companies we hand select and re-certify these late model Konica Minolta Bizhub C451 Color Copiers that have been under factory maintenance their whole life. We give them our "Eco-Brand" name because they offer the same performance and reliability as brand new machines but at a fraction of the cost and carbon emissions. Each machine we resell prevents 3.4 metric tons of C02E (carbon dioxide equivalent) emissions from harming the earth. Rely on THINK! Eco-Brand Konica C451 copiers to perform like new and save you money while reducing those pesky carbon footprints!
Rest Assured as we shoulder all the risk: All of our Konica Bizhub C451 Copiers come with a 30 Day 100% Money Back Guarantee and a 60 Day or 5,000 page Parts and Labor Warranty. Email Us for more information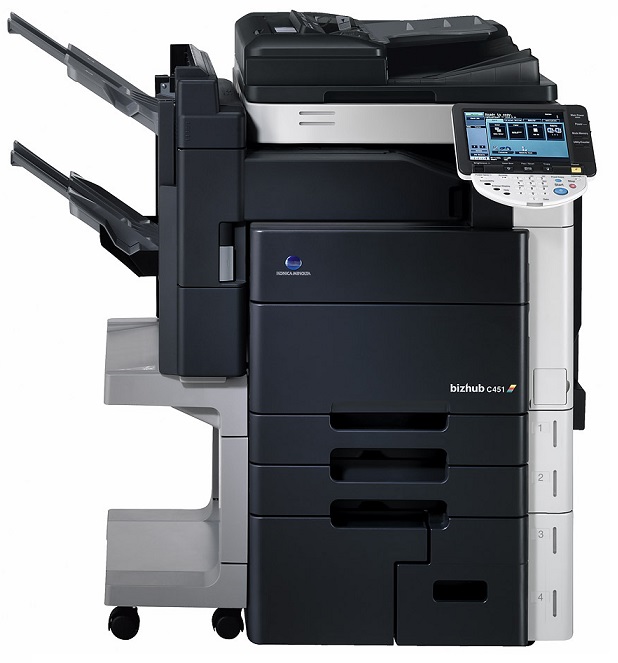 Konica Minolta bizhub C451 Details:
Konica Minolta bizhub C451The Konica Minolta bizhub C451 is the whole package. It is a multifunctional workhorse with the convenience of color; it comes as a standard copier, printer, Internet fax, and scanner. Large businesses can benefit from the versatility that the KM bizhub C451 has to offer. In-house documents can be printed at striking speeds of 45 ppm in both B&W and color—keeping you on track and productive.
High-volume printing is not a problem for the bizhub C451 with a monthly duty max of 150,000 pages. Large print projects can be completed with very limited interruptions, even at standard capacity which is an impressive 3,500 sheets. Optional paper trays can be added to boost it even more to 6,650 sheets. Scanning speeds reach up to 70 opm (originals per minute); and scanned documents can then be distributed to multiple destinations.
The black imaging unit (IU-610K) has a large yield of 300,000 pages; the colored imaging units also have a generous yield of 100,000 pages each in cyan (IU-610C), magenta (IU-610M), and yellow (IU-610Y). Toners are available in black (TN-611K), cyan (TN-611C), magenta (TN-611M), and yellow (TN-611Y); all yield an estimated 45,000 pages at 5 percent. The toner cartridges for the bizhub C451 are available in the genuine Konica Minolta brand or Precision compatible.
Pros:
BLI's 2007 "Pick of the Year" Winner
Robust monthly duty cycle
Standard all-in-one
Konica Minolta bizhub C451 Specifications:
Introduction Date: 06/2007
MSRP: $20316.00
Toner Cartridge Yield, Black: Estimated 45,000 @ 5%
Toner Cartridge Yield, Color: C/M/Y: Estimated 27,000 @ 5%
Imaging Unit Yield, Black: Estimated 300,000
Imaging Unit Yield, Color: C/M/Y: Estimated 100,000
Pages per Minute, Black: 45
Pages per Minute, Color: 45
Monthly Duty Cycle: 150,000
First Page Print Time: 6.5 sec color/4.8 sec black
Supported Page Size: Letter, Legal, Ledger, Postcards
All Inclusive Usage Based Service Agreements
Think! Office Solutions offers a usage based all-inclusive service and supply agreement is designed to save you money. Our state of the art MPS software allows us to bill you monthly based strictly on your actual usage from the previous month. If you do not print, you do not pay! It's that simple! Our all inclusive B/W copy/print fee starts at $0.01 and our Color copy/print fee starts at $0.07. ALL INCLUSIVE INCLUDES ALL TONER, DRUM, SERVICE, PARTS, MAINTENANCE, BREAK/FIX LABOR, ETC... JUST ADD PAPER.
Traditionally copier companies make you estimate your ever changing usage. They then bill you a fixed rate each month whether you print or not and to make matters worse if you print too much you are penalized with overage fees that can be as much as 50% higher than your regular fixed rate charge. We think it is ridiculous to charge overage fees to our customers for being good customers.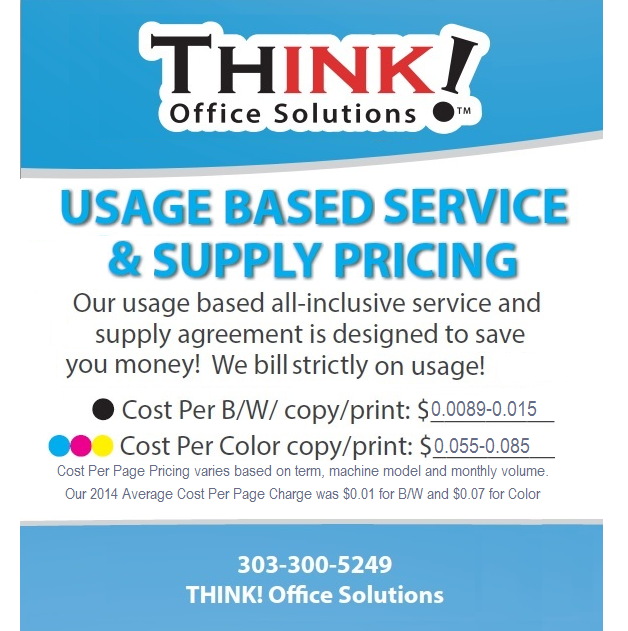 If you are in the market for a new copier or your current lease or service agreement is ending soon allow us to provide you a money saving, no pressure quote. We sell our copiers for as much as 75% off the original MSRP. This equals HUGE SAVINGS for well maintained and re-certified award winning Konica Minolta Bizhub Color Copiers. We stock all of these Konica Minolta Bizhub Color Copiers right here in Denver for immediate pickup or delivery. Email Us for more information
If your office is in the Metro Denver Area, Aurora, Centennial, DTC, Downtown Denver, Cherry Creek, Lodo, Englewood, Highlands Ranch, Parker, Castlerock, Lakewood, Arvada, Broomfield or even Boulder, allow us to save you money on one of our "Eco-Brand" Konica Minolta Bizhub Copiers.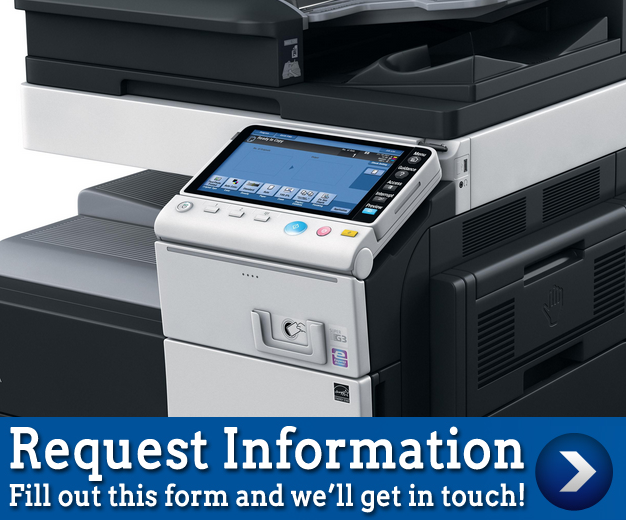 2015 THINK! Eco Brand
Konica Minolta Bizhub Lineup & Helpful Links:
Konica Minolta Bizhub C253 Color Copier
Konica Minolta Bizhub C353 Color Copier
Konica Minolta Bizhub C360 Color Copier
Konica Minolta Bizhub C451 Color Copier
Konica Minolta Bizhub C452 Color Copier
Konica Minolta Bizhub C552 Color Copier
Konica Minolta Bizhub C652 Color Copier
Konica Minolta Bizhub C364 Color Copier
Konica Minolta Bizhub C654 Color Copier
Konica Minolta Bizhub C754 Color Copier
THINK! Denver Copier Rentals | Service
Konica Minolta Copier Drivers